What does the percentage mean on window shades?
When shopping for new window treatments, you may come across a percentage of either opacity or openness. The difference between the two can be confusing. Both terms refer to roller shades with light filtering properties and express the amount of light that is allowed to pass through the shades fabric. In order to determine which percentage is right for you, let's look at the specifics of each factor.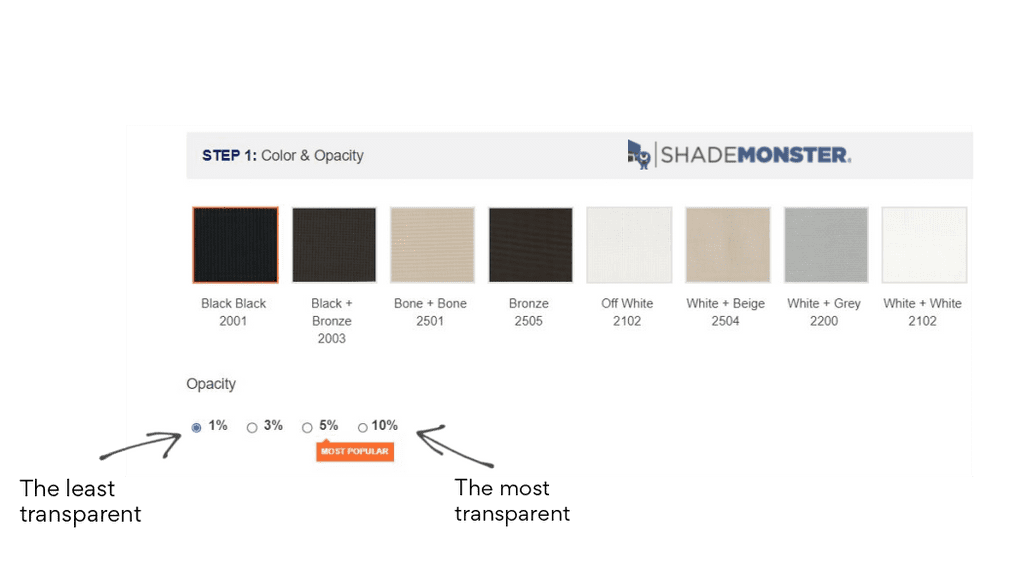 Openness Factor in Window Shades
The openness percentage usually refers to open weave translucent fabric, such as solar screen shades. This number is actually a measure of how much sunlight will filter through your shades based on how tightly the fabric is woven. Solar screen shades are typically exterior and are used to create shade for outdoor patios There are different levels of openness for solar screen fabrics, which means you can select whichever level best suits your needs and tastes! The higher the percentage of opening, the less the fabric is intertwined, thus creating an opening that allows more light to filter through. Low levels of openness, on the other hand, means that less light filters through the window treatment, leading to more privacy, and energy conservation.
Most homeowners choose a 5% openness for their screen shades. This is the ideal percentage to enjoy views without any unnecessary glare, while protecting furniture from harmful UV rays.  Anything below 5% openness is recommended for maximum shading, privacy, and energy savings.
Please NOTE that solar shades DO NOT provide privacy at night.You will need an additional window treatment if privacy is one of your main concerns. In order to maintain privacy at night, you need a certain level of opacity. 
Opacity Factor in Window Shades
Opacity usually refers to fabrics that have interwoven textures that allow light to be filtered and controls the amount you can see through. The opacity factor typically refers to indoor window treatments, such as solar shades. There is a spectrum of opacity levels to suit your needs. Just as with openness, the lower the number, the higher the level of opacity. A solar shade with 1% opacity is the most opaque and offers the most privacy, whereas a solar shade with 10% opacity is the least opaque and much more see-through. An important thing to remember is that even the most opaque solar shade won't offer total privacy at night.  
What are Translucent Roller Shades?
Translucent roller shades, also referred to as light filtering shades, offer higher levels of opacity and filter out most outside visibility. Despite being more opaque, light filtering shades still let in enough natural sunlight to brighten a space during the day. Natural light is a beautiful thing, but you might not want to compromise your privacy. That's why we offer translucent shades at ShadeMonster, so you can filter the light without worrying about prying eyes! 
We hope this blog helped you get a better understanding of what openness and opacity are all about. If you still have any doubts or questions on what is right for your window treatments, give us a call and we'll help you pick out the best roller blinds for you. Don't see what you're looking for on our website? The ShadeMonster customer service team is always happy to help with unique requests. Our professional team works with you to ensure satisfaction with your shades. 
Why Trust ShadeMonster With Your Window Treatment?
ShadeMonster boats 25 years of experience creating custom window treatments. Our products come directly from our local factory guaranteeing high quality customizable materials, competitive pricing, and quick turn around. Contact us today for your free estimate, and have your new shades in less than 7 business days! 
Still Need Help Deciding On Your Window Treatment?
ShadeMonster's team of experts are happy to assist. Call now for free consultation: (866) 206-8056