When you're home, it's important to be comfortable, not only with the perfect temperature or a nice scent, but also the amount of sun glare coming in.
Houses with large windows have a lot of nice and bright light coming in. However, the glare from these windows is so strong that it can be difficult to work, watch television or read a book. Even worse, too much sunlight coming in can also make the floor and furniture hot and can also damage items by causing the colors and materials to fade.
Fortunately, ShadeMonster window coverings are designed to cut down on glare and eye strain. Our window treatments can also protect your furniture and flooring from fading due to sun exposure, while providing a number of other benefits. So how do window coverings help? ShadeMonster window coverings are now available with different levels of opacity to help counter the glare from windows as well as protect your furnishings from fading and floors against stains.
Let's talk about glare
First, let's talk about glare. All windows that face the sun will have some level of glare in your home. The larger the windows and more east or west facing they are, the greater the chance of getting a lot of sunlight. If it's too much for you and your home, window coverings can help reduce the amount of light coming into the rooms or block it out completely.
ShadeMonster window blinds and shades will help protect your furniture from fading, especially in the hot summer months when you're more likely to have that bright light coming into your home. With our window coverings, you have several options for letting in less light but you still still keep your home bright. You can use ShadeMonster Light filtering shades to allow in more light but still protect your home from glare or you can use ShadeMonster Light blocking shades for complete protection.
Light filtering window treatments help reduce glare
ShadeMonster light filtering window treatments are a great way to reduce light from entering your home but still allow light into the room.  Our light filtering window treatments come in two categories:
Solar Shades
Roller Shades
With ShadeMonster solar shades you will be able to see through, so they will let you enjoy the outside view. Depending on the opacity level (3%-10%) you can have more or less glare reduction. Our roller shades still let the light in, but they are made of thickly intertwined fabric, giving you also the highest level of privacy.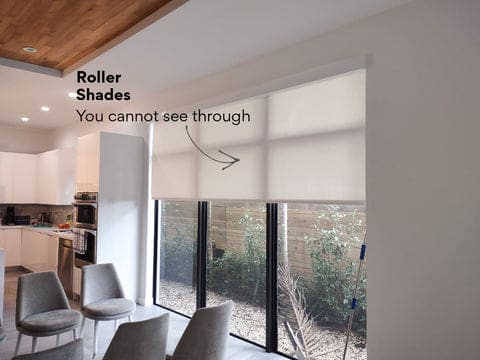 ShadeMonster light filtering shades can help you reduce eye strain during the day from harsh sunlight and glare while still allowing the light to come into your room. This is especially important if you have big bright sunny windows and a hardwood floor. Our Light filtering shades won't block light like light blocking shades, but they will help protect your eyes during the day from harsh light.
What are light filtering shades made of?
ShadeMonster Light filtering curtain fabrics can vary. Light filtering shades are usually light in color, but the fabric itself is selected based on light control and light diffusion qualities. At ShadeMonster, a light filter blind could be light colored muslin or linen which has some light diffusion qualities as well as light filtering qualities.  A light filter shade could also be light colored cotton in a solid light color, like white, light grey or light blue.
What is a light blocking shade?
A light blocking shade, also known as blackout shades, are a type of window  treatment which helps completely block the sunlight and any glare. ShadeMonster Light blocking shades are usually used at night in bedrooms to block any light coming from in. They are also popularly used in nurseries, home theatres and any other rooms where complete darkness is a definite must!
Which main needs will your window treatments cover?
ShadeMonster window coverings can be a great way to protect your eyes and your home from the harmful UV rays. However, not all window treatments are created equal. Light filtering shades will let light in but reduce glare and UV radiation, while also keeping out bugs and other unwanted "guests". Light blocking shades will keep every last ray of daylight out so that you can sleep peacefully at all hours without having to worry about that morning (or afternoon) glare!
At ShadeMonster we are happy to answer any questions or concerns before making a purchase decision on window treatments for your home. Please call us with any questions or concerns, we are here to help!
Call now for free consultation: (866) 206-8056