To achieve a cohesive interior design and improve your home's light control and privacy, blinds for doors is an important consideration. There are many options to choose from when it comes to colors and fabrics. The function of the door also determines what kind of window treatment works best. 
There are a few questions to ask yourself before deciding on blinds for doors. What is your style? How much light control are you looking for? How would you like your blinds to be mounted? ShadeMonster is here to help you make the right decision for any type of door. 

Best Blinds for Sliding Glass Doors
Sliding doors are vertically oriented and move in a sliding fashion. When it comes to blinds for sliding doors, you should base your decisions on how much traffic will pass through these doors. For high traffic areas, it is best to look for durable and functional window treatments. Sliding doors give you the option to have one door open while the other remains closed, allowing you to pass through one side. With this in mind, decide whether you would like to be able to have split window treatments that would allow you to open one door while keeping your blinds down on the other side of your sliding doors. 
ShadeMonster recommends: Blinds for sliding doors should have the same look and aesthetic as the window treatments in the room. As these doors typically open up to the rear of a house or to a balcony, privacy is a key factor. Zebra blinds are a great option that allows you to filter light and increase privacy by adjusting the overlapping horizontal stripes. These blinds can be manufactured in one or multiple panels which allows you to keep one side down while opening the other side door. 
How to Measure For Sliding Door Blinds
Since these doors are flat and slide past one another, it is recommended to have an outside mount. This means that the window treatment is mounted outside of the door frame. To measure for sliding door blinds, first start with the width and measure 4 – 6 inches wider than the door frame. For height, measure from the floor up to where you would like the window treatment mounted. To create the illusion of a larger appearance, you can choose to mount the blinds a few inches above your door frame. An outside mount will ensure that your blinds encompass your entire sliding door frame. 
Window Treatments for French Doors
Beautiful French doors should be complemented with beautiful window treatments. The most important thing to keep in mind when choosing blinds for French doors are the door handles. In order to ensure that your window treatments will fit behind the door handles easily, opt for a slim roller shade or blinds with slim slats. These window treatments should be durable and easy to clean. The ideal mount for French doors is a fitted window treatment that covers the door windows and not the doors in their entirety. French doors are chosen for their look and you wouldn't want your window treatments to cover them just because you're in need of light control or privacy. 
ShadeMonster recommends: Blinds for French doors can be either modern or traditional. For a modern look, choose solar roller shades. Their slim construction allows them to pass easily between the door and the handle. They are excellent for glare reduction and UV protection, while offering you increased privacy. For a more traditional feel, opt for faux-wood blinds. A more durable option to real wood blinds, their flat slats allow the door handles to easily fit over. Don't worry about getting them wet from rain, these blinds are made from durable PVC and won't crack, warp, or break from water damage. 
How to Choose Window Treatments for Front Door
Shades for front doors are tools to increase privacy, while still allowing you to see who's out front. Whether your front door has only one window, sidelight windows, or is completely made of glass, you'll want to make sure that your front door blinds can help with insulation as well. Roller shades are energy efficient and decrease your electricity bill by an average of 30%. No more nasty front door drafts! 
ShadeMonster recommends: Solar shades come in a variety of opacities that allow you to see more or less through. 1% solar shades will permit light to come through while offering you quite a bit of privacy. Light filtering shades increase your privacy. These shades won't allow strangers to see through to your home, which is important for front doors. 
Best Blinds for Patio Doors
Patio doors, especially those off of bedrooms, should have the option for privacy and room darkening. As with other doors, decide on the placement of the window treatment mount to either encompass the door altogether or just the door windows. Patio door blinds should allow your doors to be functional and easily able to pass through and enjoy your outdoor space. If your patio doors have large handles that stick out, an outside mount can help your blinds clear the handle. 
ShadeMonster recommends: Blackout shades offer complete privacy and room darkness. They promote better and longer sleep, so you won't wake up tired because of your patio doors. Add motorization to your patio door blinds for even more convenience and comfort. You can schedule your blinds to raise and lower at set times. Adjust your shades with a remote control, free smartphone app, or even with a smart home device like Amazon Alexa or Google Assistant.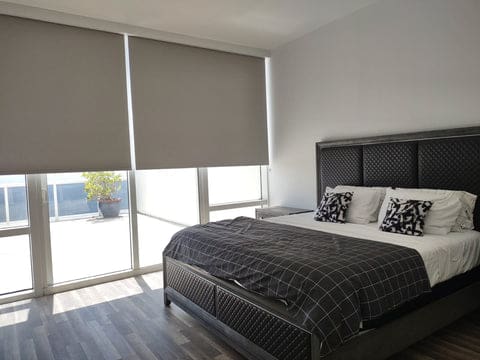 There are so many options when it comes to choosing blinds for doors. The most important things to consider are functionality and style. ShadeMonster offers over 200+ fabrics to choose from, so you're guaranteed to find the right one for your doors and home. Our team of professionals is here to help you every step of the way and make your experience easy and pain free. 
Why Trust ShadeMonster With Your Window Treatment?
ShadeMonster boasts over 25 years of experience creating custom window treatments. Our products come directly from our local factory guaranteeing high quality customizable materials, competitive pricing, and quick turn around. Contact us today for your free estimate, and have your new shades in less than 7 business days! 
Still Need Help Deciding On Your Window Treatment?
ShadeMonster's team of experts are happy to assist. Call now for free consultation: (866) 206-8056