Beach houses and coastal homes have different needs from homes that are more in land. Besides the obvious location differences, coastal properties deal with harsh weather conditions, like salty, humid air. This means that deciding on the right decor and finishings for your home is extremely important to ensure that your choices are long lasting and durable. 
Choosing the right beach house window treatments comes down to three factors – function, style, and material. In this blog, let's explore these factors and find out what options are best for beach house blinds. 
Beach House Window Treatments
When you think about the use of window treatments, you probably think of light control and privacy. And you'd be right. These are two main functions of adding window treatments to your space. Depending on the opacity and material of your blinds or shades, you can increase your privacy, while filtering the natural light. For beach houses, these are important features. These properties are predominantly located in hot, sunny areas. Being local to South Florida, ShadeMonster knows all about that. Adding light filtering blinds into your home is a great way to keep the heat and sunlight out.
But beach blinds do more than increase privacy and filter light. Along with that natural sunlight, comes those harmful UV rays and pesky glare. Whether you vacation at your beach house or live there throughout the year, you don't want to be squinting inside because of the intense glare coming through your windows. Beach house shades are helpful at reducing glare, so you can enjoy the day time. UV protective window shades also keep your beach house furniture from being damaged or bleached by the sun. 
Did we mention that window blinds and shades can help reduce your energy consumption? That's right! With all that natural sunlight and heat outside, you can save up to 30% off your monthly electricity bill just by adding window treatments. And the benefits don't stop after the summer months are gone. The insulating properties of blinds can also keep the cold air out during the winter. We're looking at you New England! The purpose of living by the water is to enjoy your surroundings and make your home your own personal paradise. Installing beach house window treatments means you can delight in your space, day or night. 
Coastal Window Treatments
Coastal blinds should feel cohesive to the rest of the home decor in your beachside property. Coastal aesthetics are defined by seaside colors and elements. Your home design should feel soothing, clean and simple. Finding inspiration in your surroundings, many times taking into consideration the look, texture, color, or feeling you have when you are at the beach. Of course, each beach has its own particular characteristics. North eastern beach cottages have a totally different vibe from Florida Keys beach homes and Malibu mansions. Depending on the beach location, there is a subsection of coastal interior design that can work for your window treatments. 
Creating a space that fits in with the surroundings means taking a lot of inspiration from nature itself. Using the natural elements can make a house feel "beachy". Incorporating driftwood into your design and shells as decor achieves this look. To complement the organic simplicity of this design style, consider bamboo or woven blinds. These coastal blinds are available in a variety of colors and textures that are reminiscent of sand dunes, sawgrass, and driftwood. They allow natural light to pass through the woven materials, while increasing privacy. These blinds will blend in well with a natural design aesthetic. 
When you think of a modern beach house, Miami and Southern California come to mind. These sophisticated homes typically find themselves juxtaposed from the natural simplicity of their surroundings. Modern beach homes are composed of clean lines, new technology and indoor/outdoor living. This design style is typically minimalist with a few statement pieces. Vinyl roller shades are a great option for the modern beach house. With clean lines and a modern approach to window treatments, roller shades can be installed in any room of your house. Available in a variety of colors, textures and patterns, customize your beach house shades to fit your design aesthetic. For an extra WOW factor, add motorization to your shades. Control your shades by remote control, smartphone app, or with voice commands when you pair them with an Amazon Alexa or Google Assistant. 
Cape Cod style is what we would call traditional beach homes. This style is typically found on the Northeast coast and has an English-cottage-on-the-beach vibe. This style is characterized by symmetrical lines, wood-planked exteriors and family-oriented open living spaces. Coastal traditional houses typically install faux-wood blinds for their classic style and function. The horizontal lines of these coastal blinds work well with the symmetrical lines in the house design. More durable than real wood, faux-wood blinds are perfect for coastal weather since they are water-resistant and won't warp due to water damage.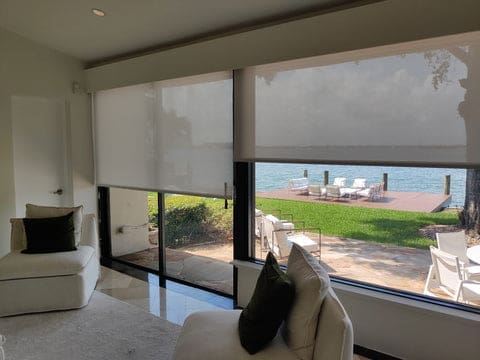 Tropical Shades and Blinds 
Whichever coast your beach house is on, tropical shades and blinds should be durable and reliable to ensure they last against the harsh weather conditions. Living by the water can wreak havoc on your furniture and exterior. The salty, humid air can rust, deteriorate, and damage materials over time causing you to replace or restore your beach home. When adding home finishes like window treatments, it's important to keep this in mind. Vinyl roller shades are a good option with their waterproof material. They are easy to clean and maintain, dusting every week and spot cleaning with a damp towel will keep them looking like new. Faux-wood blinds are also great for tropical weather. They won't warp, crack, or break due to humidity, unlike real wood. 
Coastal blinds benefit your beachfront property in so many ways. When it comes to choosing the right option keep in mind the function, style, and durability of the materials to ensure you won't need to replace them after a short period of time. ShadeMonster offers a large selection of fabrics and options to choose from, guaranteeing the perfect window treatment to match any style. 
Located in South Florida? 
ShadeMonster is your trusted custom window treatment company in Miami. Come visit our showroom, just 10 minutes north of the Design District, and see our fabric samples, how our window treatments work, and tour our factory where all our products are made. Our team of designers will help make customizing your window treatments easy and pain-free. 
Why Trust ShadeMonster with your Window Treatment? 
ShadeMonster boasts over 25 years of experience creating custom window treatments. Our products come directly from our local factory guaranteeing high quality customizable materials, competitive pricing, and quick turn around.  Contact us today for your free estimate, and have your new shades in less than 7 business days! 
Still need help deciding on a window treatment?
ShadeMonster's team of experts are happy to assist. Call now for free consultation: 866-206-8056